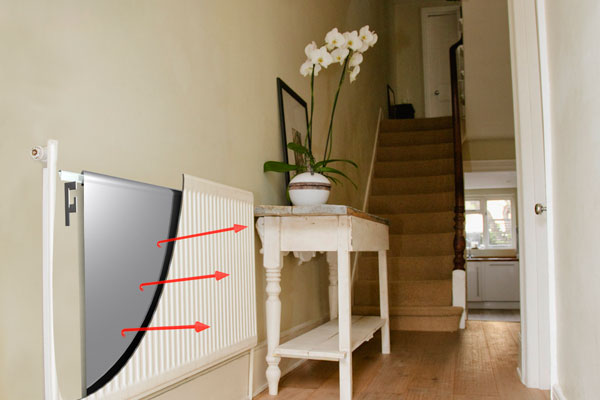 The stormy end to 2013 is set to continue in to the New Year with January 2014 likely to bring the worst of the winter's weather; Good reason to spend a bit of time tackling cold spots and making your home warmer and more energy efficient for this winter and those to come.
Many UK homes do not retain heat well – 27% of the UK's CO2 emissions come from our houses – and the waste costs us dearly in energy bills. In a typical British home, heat is lost through the walls, roof, doors, floors and windows. With the following simple, low cost measures we can improve energy efficiency, warm up our homes and reduce our bills.
Michael Watson, CEO of Radflek says: "Over the holiday period many of us are spending more time in our homes so we want them to be as warm and energy efficient as possible. Many of our homes are badly insulated, expensive to heat and feel cold, but these measures to prepare your home for a cosier winter are quick and easy to fit as well as inexpensive – and once they're in place you won't need to do them again next year."
Radiators
About a third of heat in the home is lost through un-insulated walls and most radiators direct some 40 per cent of their radiated heat towards the wall behind – so if you want to avoidpaying to heat the street outside fit Radflek Radiator Reflectors. Radflek reduces heat loss through the wall behind the radiators by 45% and directs heat into the room so that the radiator maintains its operating temperature using less energy with a lower load on the boiler. Radflek is easy to install, no need for sticky tape, removal of radiators or any DIY know how – anyone can do it in minutes.
Draughty loft hatches
Whether or not you have roof insulation, you can make sure cold is not coming through the loft hatch. This can be done easily and cheaply by laying foam or other material such as sheeting over the hatch, and blocking the gaps with rubber or brush seals.
Doors
Thick curtains hung over a door and draught excluders to block the gaps will help to trap heat. Letterboxes often let heat escape and cold air in – a letterbox draught excluder will help.
Floorboards
Draughty floorboards and gaps between the floor and skirting board will make your feet cold and cause significant energy waste. A sealant to fill the gaps is easy to fit yourself.
Windows
A simple way to reduce heat loss is to seal any gaps around the window and place window insulation film. Closing your curtains after the sun goes down also makes a difference.
Fireplace
Unused fireplaces can let in a lot of cold air. A chimney pillow is a neat product that blocks draughts and also stops debris falling into the room.