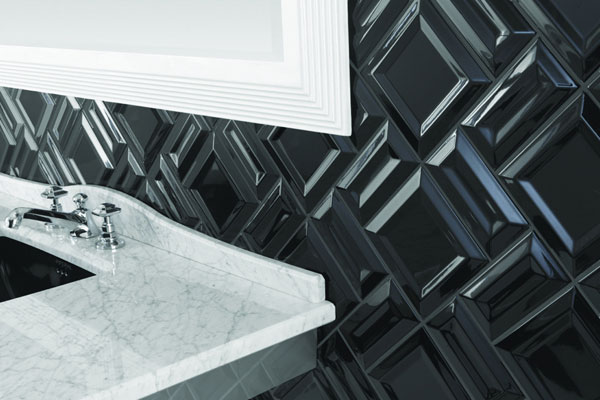 Beautifying your bathroom space requires the right finishing touches. The classic vintage Georgian and the distinctive art-deco style Plaza collections of wall tiles from Imperial Bathrooms offer the perfect way to make a beautiful statement and the elegant finish that is strongly trending right now.
Handcrafted and each available in four classic colour shades, Imperial's two new wall tile collections perfectly complement period bathroom features as well as modern bathroom décor. The exceptional detail and quality of the handcrafted ceramic tiles are indicative of Imperial Bathroom's commitment to always producing the finest quality bathroom products.
Each collection brings a different accent and feel to the bathroom, so if you're looking to add the vital accessory to this space one of these new collections could be the way to provide the perfect high-end finish. Tiles are taking centre stage in today's bathroom choices, with eye-catching designs and materials essential for making the right statement.
The Georgian range of tiles proclaims the quintessentially British style vestige of octagonal wall tiles with accompanying diamond pieces, reflecting the desire for a stylistic past of British luxury. Alternatively, the Plaza collection introduces a bold new opulence to Imperial's tile offerings with an art-deco relief border and high-glaze finish, a perfect example of the current bathroom fashion for 1920s art-deco shapes and rich colours to style the bathroom space.
Georgian collection: Featuring a choice of main background wall tiles and accompanying feature tiles, this collection creates an exquisite, classic look in the bathroom. The 13x26cm main octagonal tiles come in a choice of four elegant shades: White, Linen, Mauve and English Ecru. The stunning accessory tiles to the collection include streamlined capping pieces (5.5x26cm), the ornate and unusual Georgian Leaf Decoration tiles (6x26cm) and Midnight Black, White and Ruby Red Mosaic companion tiles (3x3cm), to add the final touches of personality to the Georgian look.
Plaza collection: This one of a kind range of art deco inspired wall tiles creates the statement of glamour and sophistication that sits very well with the trend for extravagance and luxury in the boudoir. Reflecting the current trends for 1920s visual style and sensory textures, the Plaza range comprises 15x15cm principal tiles, either with a relief texture border or a smooth glazed finish. The accessory tiles for this range include the half height tile options in both styles, the art deco border Dados (5x15cm) and the miniature border pieces (2x15cm). Every tile in this range comes in the four exclusive Imperial shades of White, Cream Haze, Grey Ecru and Midnight Black.
All of Imperial's bathrooms are manufactured by skilled craftsmen and are handcrafted to exacting standards that set the benchmark for quality worldwide throughout the bathroom industry.