The glamour of gold is timeless, and the new Carolinian Lanterns, hand-painted in luxurious French Gold, prove to be no exception. Shimmering like a valuable jewel, they are designed to create an impressive and welcoming aura to an entrance, and are destined to be the heirlooms of tomorrow.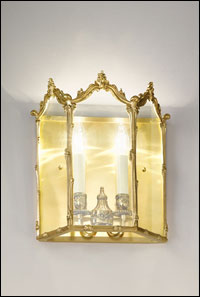 Hand-made in solid cast brass and then expertly hand-painted, by Italian artisans, in French Gold, they are lavishly embellished with decorative motifs reminiscent of the late 17th century and of an England long gone.
Specialist lighting Designer Christopher Hyde has created these opulent lanterns with period properties in mind – complete with their tall ceilings, imposing entrances and lavish interiors.
The grand, four-light suspended version is 600mm tall and 380mm wide and is accompanied by the two-light wall lantern, which is 330mm tall and 300mm wide. They retail for £1880 (or £1920 at 20%VAT) and £1175 (£1200 at 20% VAT) respectively, and are available in alternative finishes.
Christopher Hyde has a showroom at the Design Centre Chelsea Harbour and is renowned for his exclusive and lavishly styled lighting. The Carolinian Lanterns are the latest new introductions into the Christopher Hyde collection for prestige interiors.