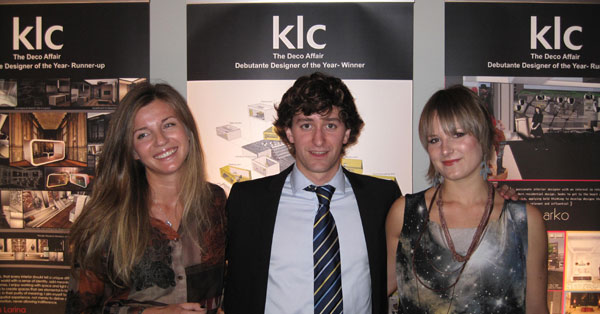 Following a rigorous judging process it was unanimously decided that the Deco Debutante Award winner for 2011 is KLC School of Design graduate Javier Garcia-Alzorriz with runners-up Petra Arko and Irina Larina.
Javier's work was selected because it stood out as being inspiring, original and cutting edge. "I felt so thrilled and surprised" said Javier upon receiving the The Deco Debutante Award. "The competition featured a very talented pool of people. I am so grateful for all that I learnt at KLC School of Design and the opportunities that I have had due to studying there. It has been the best decision of my life." Javier is currently collaborating with Matrushka interior and style practice where he is involved in the whole design process that Joanna Berryman and the rest of the team are developing.
Jo Welch the pioneered the inaugural Deco Debutante Award, "I wanted to launch an interior design award to specifically discover and showcase exciting new and emerging talent, celebrating true design integrity" said Jo who chose to work with KLC School of Design to launch this because "the school represents the pinnacle of excellence in interior design education and their students represent London's most exciting interior design talent."
Quotes from The Deco Debutante Award's runners-up:
Petra said that "receiving recognition from such a distinguish panel of judges, who's respective styles and designs have influenced me so much in the past, will persuade me to pursue my design style further and approach my current work with my clients confidently and motivated."
Petra is working for her own company Arko Design Ltd and currently working as Interior Design Consultant for Jo Clevely Designs on one of her major clients, Geronimo Inns. Her work includes their new venue, The Oyster Shed, on the North Bank of London Bridge which is opening in January 2012 and renovation of an Indie music venue in Putney. She is also very pleased that David Keech and Epson have asked her to join them again for their annual Trend Report project which is created with the help of KLC students.
Irina said "I have always aimed to create really exciting spaces and rich design experiences. Being nominated for the Deco Awards made me realise that my works and attitudes are not only understood but also shared by other people. I believe this nomination will be a true incentive to explore the borders of my creativity and style."
Irina is having work experience with HB Interior, which provides her with a wonderful opportunity to participate in a range of international high-end projects.
The Deco Debutante Award was presented to Javier as part of the Deco Affair held at Quintessentially House on the 3rd November. The trophy is a stunning white onyx sculpture designed by Mark Humphrey this will be passed on to each Deco Debutante Award winning designer and engraved with their name.
Award entrants for 2011 were KLC's recent Diploma graduates whose work was reviewed by a panel of leading industry judges consisting of: Patrizia Gucci (Gucci, PattiPatti), Mark Humphrey (Mark Humphrey Ltd), Jenny Gibbs (KLC School of Design), Jo Welch (Deco Living Media), Ryan and Anita Kohn (Living In Space). Graduates work was judged for: the quality of their spatial planning, creative use of materials and finishes, professional accomplishment, the overall visual impact of presentation – the effective use of skills and knowledge to communicate design ideas, awareness of prescient and current thinking at forefront of industry, originality/individuality/design creativity. Mark Humphrey who created the stunning trophy said "my impression of the projects submitted by the KLC School of Design graduates for the Deco Award 2011 was of a very high standard. A reflection on the immaculate and professional educational foundations set out by the School."