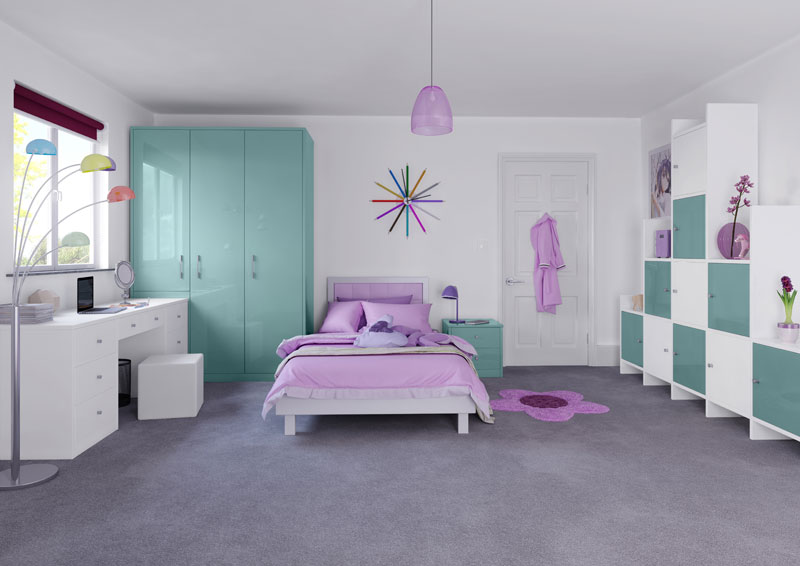 Spring is the perfect season to declutter and re-organise your home, whether it's a mini makeover in the bedroom or simply adding a splash of colour to a new playroom. British furniture manufacturer, Crown Imperial's Lifespace storage collection is designed for use throughout the entire home and is available in an inspiring choice of 87 colour, finish and style options to kick start your next project.
Perfect for fusion living, Lifespace is easy to mix and match with Crown Imperial's bedroom and kitchen ranges to ensure a seamless look. The Rococo collection is one of the latest on trend matt finishes and is available in a striking palette of 11 colour tones including neutrals and colour pops. Rococo range is pictured maximising space with a super sleek white Lifespace home office solution paired with matching blue bedroom furniture.
Form and function combined, Lifespace offers a flexible choice of three shelf heights, two shelf depths and a variety of drawers, units and desk configurations tailored to your needs. A perfect solution for a children's playroom, Lifespace is ideal to create a stunning feature wall with its modular tiered storage, providing easy access for all and closed units for concealing clutter.
As a child grows, Lifespace also offers the opportunity to include new elements such as a study area, additional storage and the option to change unit colours.