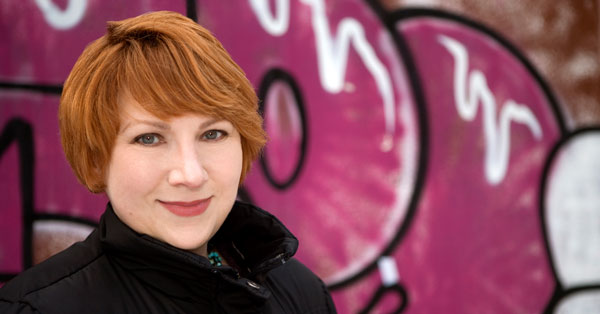 Since Adrienne Chinn first launched the Urban London collection by press released in April it has been receiving a lot of attention. The week the collection was launched it was one of the top 50 tweets. The wallpapers from this collection have been shortlisted for the International Design and Architecture Awards sponsored by Design Et Al Magazine, the winners to be announced in September. The collection will also be included on an international 2012 design trend board and report by Scarlet Opus trend forecasters.
Adrienne's designs incorporate a number of quintessentially London themes and scenes from the pavements to the underground to icons and sky-scapes as well as graffiti. The larger pieces are reminiscent of Banksy, and the use of bold colours reiterates the urban theme. "I took inspiration from the urban London environment," says Adrienne. "I spent last summer taking a thousand photos of urban London images which I've translated into designs for the Urban London collection. I wanted to find an edgy beauty in the ordinary London environment."
Adrienne has created unique 100% hand-tufted wool rugs with edgy names like "Pavement", "Rollerdoor" and "Grille". The rugs, made of New Zealand wool, are available to order in custom sizes. The unique glass tiebacks, designed by Adrienne and mouth-blown by a glass artist in Wales, are a luxurious component of the collection. Adrienne has collaborated with the talented London-based textile designer Annette Taylor-Anderson of ATA Designs to create a range of wall murals, wallpapers and 100% cotton printed fabrics to compliment the Urban London range.
Since releasing the core of the Urban London Collection Adrienne has been busy expanding the designs, "I'm currently working on an Urban London Kids range to be launched with the main range at 100% Design in September" says Adrienne, "We will also be doing lampshades, cushions, plates and mugs, and other interiors accessories…. I've been working with students at St. Paul's Way Trust School in London's East End on prototype furniture designs for the collection, to be shown at 100% Design as well."