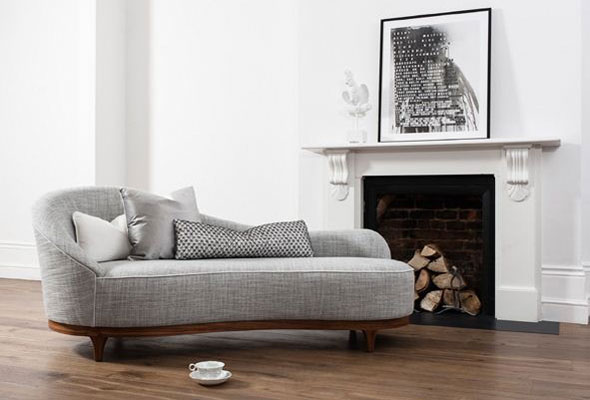 Arguably the most desirable piece of furniture, there's nothing quite like a chaise longue that makes a room feel instantly special. Based on King's Road, Bespoke Sofa London has recently updated the 18th Century chaise longue and handcrafted this bespoke piece that exudes understated hotel glamour with modern design.
The exquisite piece sits with an elegant sloping arm that characterises its classic asymmetrical design, whilst the outward cant of the back is a modern curlicue feature. Upholstered in luxurious Zimmer and Rhodes Tao collection, the grey tones of the fabric contrast with white piping detail, providing a subtle hint of opulence. A water repellent surface, this beautiful chaise is filled with foam and feathers for ultimate comfort. Refined solid walnut wood legs are finished with a clear lacquer and the frame is crafted from solid beech wood, maintaining the functionality of its origins. It's beauty lays in the eclecticism of its design, sitting perfectly amongst old and new styles.
Width 200 x Depth 90 x Height 85cm.