Merlyn Showering highlights the changing face of Shower Enclosures over the last decade…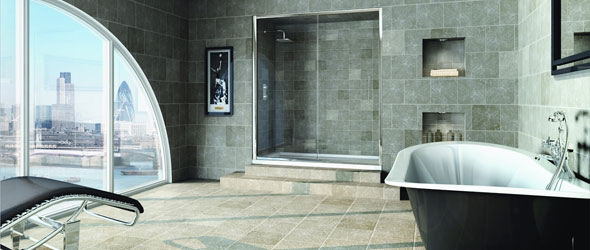 Myleene Klass presents the show, Ten Years Younger where two women go head to head each week with one goal – to look younger. In the same vein, Merlyn Showering has turned back time on its Series 6 Sliding Door to see how enclosures have changed over the last decade.
Research shows that home-owners replace shower enclosures about every 10 years, so many consumers will be familiar with the "white box" which was so popular back in the early "naughties" and perhaps ready for a change!
The Series 3 Sliding Door was launched ten years ago. At the time it was a versatile model offering quality and fusing traditional design elements with the latest look. The enclosures were available in both Arctic White and Chrome. Arctic white is a colour that has lost popularity over the years making way for the current favourite, chrome. The door was available in white or chrome and retailed for £492.33.
In contrast, the new and contemporary face of Merlyn Showering's equivalent enclosure is the Series Six Sliding Door. A stylish, uber-modern enclosure that boasts conveniently high doors (1850 mm), ideal for the current trend of low level tray installations.
Series Six Sliding Door Features:
Tray size: 1000 – 1700mm
Height: 1850mm
Features: 6mm toughened glass, easy clean rollers, 50mm adjustment, reversible sliding door
Available finish: Chrome