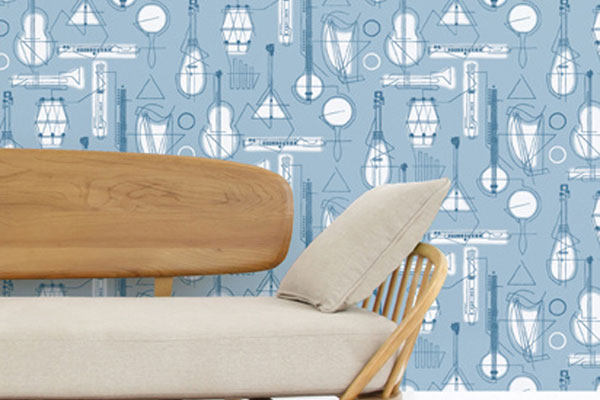 A design inspired by the richness and diversity of musical performance at Southbank Centre.
Cult British design brand Mini Moderns has created Concert, a new collection for Southbank Centre. Featuring line drawings of musical instruments, the design was conceived to represent the immerse variety of musical performance that is staged at Southbank Centre.
Mini Moderns founders, Keith Stephenson and Mark Hampshire are big fans of Southbank Centre – both as a performance space and as an architectural icon. "We've seen such a range of music, art and performance there that we felt it important to represent this variety in design".
It was something of a dream project, because the pair already enjoyed a great working relationship with Adam Thow, Head of Retail and Buying at Southbank Centre. "Adam really gave us an open brief. We were free to base the design on any aspect of Southbank Centre we wished. Because the architecture of the Festival Hall is such a strong part of the venue's identity we wanted to reflect the period too, so we based the illustrations on 1950s wire frame wall decorations".
The Concert collection includes wallpaper in 2 colourways – Chalkhill Blue and Concrete, along with cushions, canvas tote bags, stationery, and bone china mugs – all manufactured in the UK.
The new design continues an established relationship between the two brands. Last year Mini Moderns launched Festival, their homage to the Festival of Britain that has proved extremely popular as a retail proposition for its spiritual home, the Festival Terrace shop at Southbank centre. In 2008, under the Absolute Zero Degrees brand, Keith Stephenson and Mark Hampshire redrew and recoloured the Net and Ball design that features on the carpet of the Royal Festival Hall to produce wallpaper that proved to be one of the shop's best sellers.