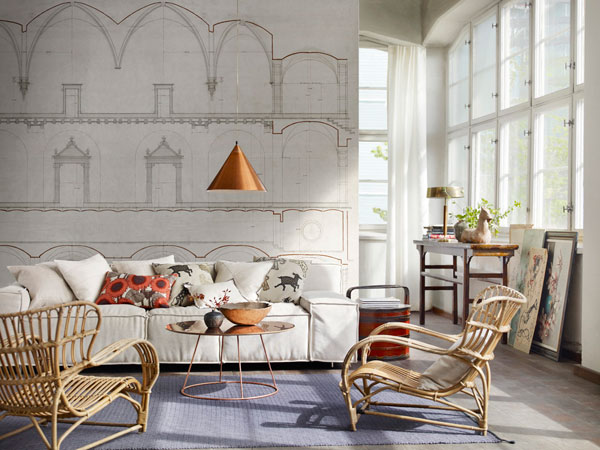 Sandberg is a Swedish company with a long history of traditional wallpaper manufacture. However, in an exciting new development, the company has just produced its first digital collection, Arkiv, which will be launched in Spring 2014. Embracing the very latest technology to celebrate timeless designs, Sandberg has created what it terms 'true Swedish wallpaper art'.
The Arkiv Chapters
Arkiv is divided into four separate 'chapters'. It comprises fifteen designs in a palette of colourways: six of the designs have been sketched by the Sandberg Studio, whilst nine have been judiciously selected from a wealth of archive material in Sweden.
Chapter One: Architecture
Celebrating the work of four eminent Swedish architects, Gunnar Asplund, Carl-Wilhelm Carlberg, Justus Weinberg and Isak Gustaf Clason, this chapter encompasses original sketches, plans of the Nordic Museum as well as Apslund's chairs, Carlberg's trees and Weinberg's door.
Chapter Two: Maps
Old maps have an inherent mystique for both young and old alike, and this is fascination is particularly heightened in an era dominated by GPS! This chapter contains maps of old Uppsala and Ovansjö Parish in Småland.
Chapter Three: Japanese Woodblock Prints
Traditionally Japanese woodblock prints were sheets on which each colour was printed with a cherry-wood block, and the technique was particularly prevalent in 17th Century Japan. When they reached Europe in the 19th Century they exerted a powerful influence on artists, for example Carl Larsson – his house in Sundborn contains 37 stunning examples. The Röhsska Museum in Gothenburg has a collection of around 350 Japanese woodblock prints and this chapter's designs have been gleaned from the museum's archive.
Chapter Four: Sandberg Archive
The Sandberg archives themselves contain a vast wealth of meticulously preserved designs and sketches, some of them on a dramatic scale. With the advent of digital technology it has become possible to reproduce these over-sized motifs, and the fourth chapter contains six Sandberg favourites: Dodecanese, Georg, Botanica, Sara, Tang and Eden.
Sissa Sundling, one of the Design Directors at Sandberg, expands on the origins of the collection: "We often find new ideas by looking back at history, taking inspiration from older graphic works and drawings, as well as the treasure trove of arhive books, pictures and sketches in our own Studio. We have long wanted to share these wonderful patterns, but, until now, the technology has not been available to reproduce these larger designs to their full potential."
Fellow Design Director, Karolina Kroon, adds: "Arkiv represents a unique collaboration between Sandberg, Uppsala University, The Röhsska Museum, The Nordic Museum, The Swedish Centre for Architecture and Design, The Swedish National Land Survey and The Regional Archives in Gothenburg. We are honoured to be part of such a prestigious association, and delighted with the result of our joint endeavour. Embracing digital technology is a new challenge for us, but one which opens up so many exciting avenues and takes Sandberg into a new dimension."
All the Arkiv wallpapers are responsibly printed at Sandberg's parent-company at Borås in the west of Sweden. The printing inks and pigments are water-based, non-toxic and harmless, and no detergents, plasticisers, PVC or chlorine bleached paper have been used in the manufacturing process