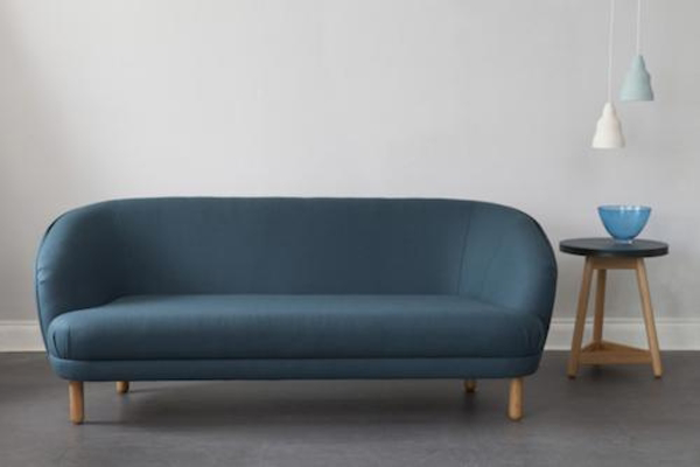 Bethan Gray, winner of the Best British Designer Award 2013 is delighted to announce the launch of a new upholstery range, Ella – designed exclusively for British furniture maker WorkHouse. Comprising a sofa and an armchair, Ella will launch on WorkHouse's stand (S36) at Designjunction (18-21 September) during London Design Festival 2014. A plain back version of the sofa (above) will also feature in Bethan Gray's Harrods pop-up shop from 8 September 2014.
Ella features a curvaceous form designed to sit beautifully in both public and private spaces. The range is manufactured entirely in the UK, which continues WorkHouse's commitment to supporting local craftsmen, whose great skill can be felt in the comfort and warmth of this timeless collection.
Ella is available in a selection of size options including a modular design for L-shaped lounging, and a generously proportioned armchair. Different leg options also offer the flexibility of creating a contemporary or classic look; furthermore, the back cushion comes in a patterned design or a plain version for a simple and understated styling.
Bethan Gray comments, "It's been a wonderful journey to work on this collaboration with WorkHouse, and be able to support authentic British craft and manufacture. The way WorkHouse produces its furniture exactly resonates with my own design ethos, and I'm very pleased with the result of this wonderful partnership – combining simple, elegant design with high-quality skills and craftsmanship."
WorkHouse's co-founder Dominick Pegram comments, "We have always admired Bethan Gray's subtle and elegant work and her talent to create and design for a broad audience as if each was a bespoke piece. Feminine and sophisticated, personal and professional, the Ella collection continues our commitment to the best of British design and manufacture."