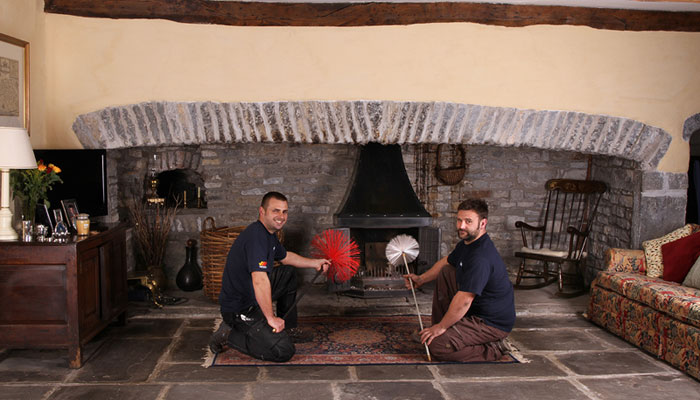 Luke Adams and Damian Bamford from chimney and woodstove specialist, Topstak, have become registered chimney sweeps after training at the National Association of Chimney Sweeps (NACS) headquarters in Staffordshire.
NACS was formed in 1982 as a professional trade association, promoting high standards for the sweeping, inspection and maintenance of chimneys
Luke and Damian then cut their teeth on what is reported to be the widest inglenook in Wales, located in St Mary Church near Cowbridge.
This latest accolade adds to the duo's cache of qualifications – they recently became HETAS registered installers.
Topstak has an ongoing programme of staff training, and is grateful to Welsh Government funding to make this possible.
"We are keen to ensure that our staff are as highly trained as possible," explains Topstak director, Adam Pedersen.  "In addition to our sweeping service, we can service stoves, carry out chimney smoke tests and CCTV chimney inspections to check for damage."
Mr Pedersen confirms that now is the time to sweep chimneys, clearing away the soot, before they are needed again in the autumn.
"Chimneys need to be swept annually as the coal soot deposits or wood tar deposits can build up to such an extent that they cause a chimney fire," he warns.