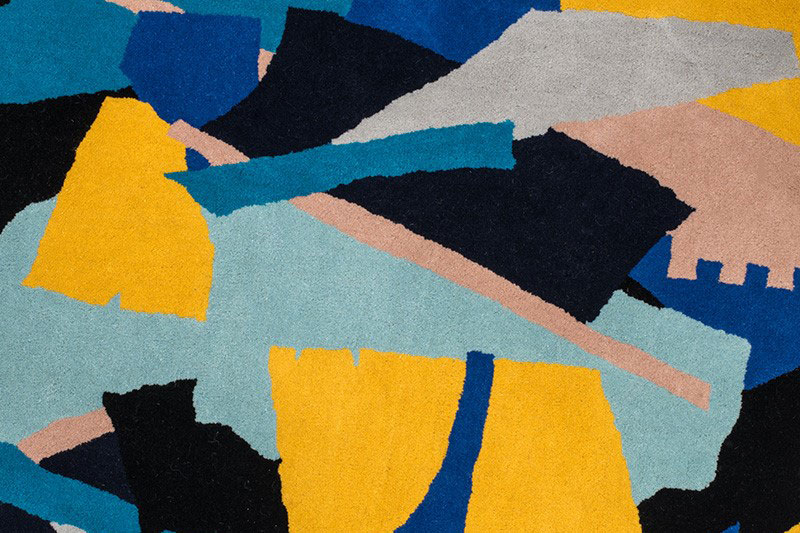 Richly distressed surfaces, random jagged edges, a playful twist on animal print… The latest rugs for Autumn/Winter are guaranteed to shake up any room scheme.
Autumn Rug Trends – Fresh Looks for Flooring
Dame Zandra Rhodes' capsule collection for East London based rug dealer FLOOR_STORY celebrates some of her iconic prints from her decades-long fashion career, translated into exuberant floor coverings designed to bring "an element of surprise" to people's homes. Hand-tufted in India in wool and bamboo silk, Tutankhamun's Leopard is "a fun take on Pink Panther" that first appeared as a print in Dame Zandra's 1987 Secrets of the Nile collection, and is a surefire way to add a bold, quirky touch to any room scheme. Stocked in a standard size of 120 x 150cm, it can be custom made in any size or shape in 8 to 12 weeks.
Belgian manufacturer Louis de Poortere's popular Mad Men collection – inspired by vintage designs of the Mad Men era of 1960s advertising – has been updated with three subtly iridescent "Cracks" designs. These gorgeous jacquard flatweave cotton rugs feature a dash of high-gloss polyester for a touch of shimmer and come in sizes ranging from 60 x 90cm to 280 x 360cm. Available in Deep Pine, Abyss Blue and the beautifully burnished Deep Mine, which represents "the darkness of the mine shaft with the lode of gold at the bottom".
The work of London-based print and pattern designer Kangan Arora celebrates colour, geometry and a rich tradition of visual storytelling, informed by her Indian heritage. Her stunning Radium rug is hand-tufted in India, appropriately enough, and features a kaleidoscope of shapes in different hues, inspired by the irregular shaped vinyl offcuts found adorning the truck-building workshops of Punjab. Custom sizes and colourways are available on request.
Known for their extensive range of high quality eco-friendly natural floor coverings – from classic carpets in neutral shades to vividly patterned stair runners – Sisal & Seagrass can make a rug in any size or shape to your exact specifications. Whether you need an abstract design that fits perfectly in an awkward corner of a room or you want to make an impact with an off-the-wall, unusual piece like this one, just get in touch with them and let them know what you need and they'll be happy to supply it.
The creative upheaval of the 1960s – in particular, the energy of abstract expressionist art – is represented in Louis de Poortere's Griff rugs. Woven on jacquard Wilton looms in a combination of pure new wool and super-soft cotton chenille, each rug has multiple layers of texture, distressed areas and intricate stitching to give a true 'vintage' look. There are eight colourways in the range, including Bronx Azurite – a cool combination of blue and indigo shades that will form a perfect counterbalance to warm-coloured wood furniture and flooring.