The Aquaglass+ range from Frontline Bathrooms has been introduced to the Frontline portfolio to offer a contemporary and premium quality product at an exceptional price. The Aquaglass+ range is exclusive to Frontline and will be available in January 2011.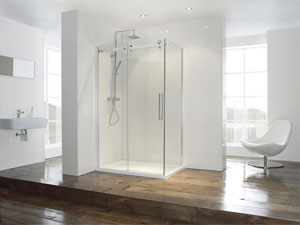 Frontline Bathroom's Aquaglass+ Slider (image attached) is constructed from 8mm toughened glass and is perfect for recesses. The door's clear look exudes style, whilst the smooth line of the single sliding door delivers effortless motion. The 1200mm slider with 800mm side panel includes 25mm adjustment on each side, a stainless steel handle, a chrome top roller system and Aquashield coating for lime scale protection.
Frontline Bathrooms, sales and marketing director Michael Sammon says, "Our Aquaglass+ range is an exciting addition to our extensive portfolio of shower enclosures. We are delighted to have expanded our product portfolio to include this quality product. The look certainly belies the entry level price range. Our new brochure now boasts more shower enclosures than ever before, showcasing shower solutions for all floor spaces."
Models in the new Aquaglass+ range include:
* 8mm 900×900 Quad
* 8mm 1200 1 Door Slider
* 8mm 1200 2 Door Slider
* 8mm 900×900 Corner Entry
* 8mm SQ Walk In
* 6mm Walk In with return
Standard across the whole Aquaglass+ range is a lifetime guarantee and Frontline shower cleaning kit.