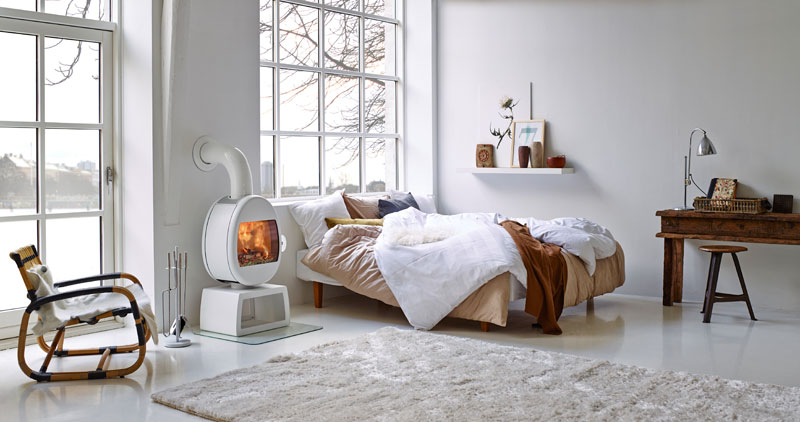 Launched last year, the Scan 66 Wood Burning Stove, has been so popular that a stunning new white paint finish has now been introduced.
Designed by highly acclaimed and award winning Danish designers Harrit and Sørensen the Scan 66 is a real head turner and trend leader.
Scan 66 Wood Burning Stove
The unique elliptic shape creates a beautiful frame around the fire where a clear glass log retainer ensures maximum views of the flames. There are several other glass innovations also featured: the handle and air vents are in tempered glass providing discrete and unique details.
Four options are offered – each benefitting from the exceptional award winning clean burn Scan heat combustion system: Scan 66-1 wall hung Scan 66-2 pedestal base, Scan 66-3 Prism base with multiple choice of colour silicon inlays which can easily be changed to match décor. Scan 66-4 Plinth base Size: 940H x 482W x 337D (Scan 66-1) Efficiency: 78% Heat Output: Nominal 5kW Flue: Top or Rear, Max Log Length: 33cm Finish: Also offered in Black Paint. All are approved for burning wood in DEFRA smoke control areas. All options in white paint are priced from £2,350 inc VAT.
Over several decades Scan in Denmark has cultivated a new tradition of producing iconic interior design that is inspired by the possibilities created by technology, yet deeply rooted in functionalism.