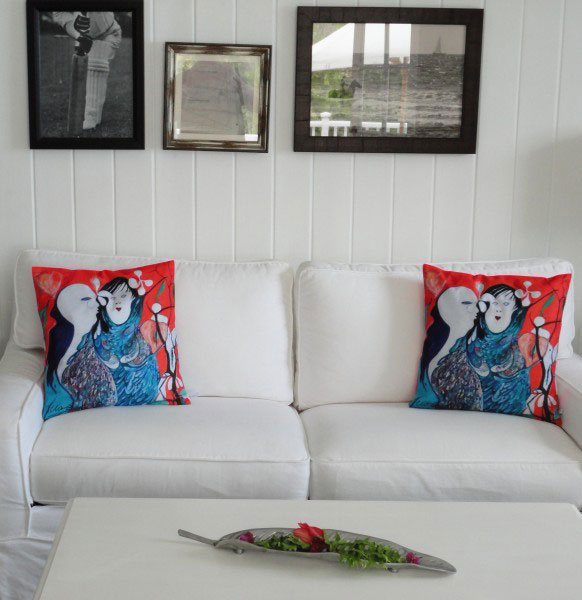 With the warmer season finally upon us, it's time to celebrate and let colour finds it's way into your home. Add a pop of sunshine this Spring Summer with the Exclusive Artist Collection by Jacqui Joseph Designs, with homewares featuring delicious artworks by World-renowned Artist Llewellyn Xavier OBE and the ever-popular Lucy Loveheart.
The Artist Collection begins with exquisite high quality Microfibre Suede Cushions and generously sized cotton Tea Towels and is expanding to include superior non woven coated Wallpapers range which will see our most popular artworks – Fairy Princess Singing A Love Song and the show stopping Spirit of Freedom leading the way….
Set to join the Artist Collection is our Cosmetic Bags and cute Purses. And in June 2014 we see the addition of Kitchen accessories including Serving Trays, ideal for Summer breakfast in bed or serving summery drinks on a balmy evening, Scatter Trays perfect for that cuppa and biscuits or a stylish piece for loose change, keys, jewellery & knick knacks. Sandwich trays, chopping boards, coasters and placemats will complete the collection.
Jacqui Joseph Designs are thrilled to be voted Number One for our Lucy Loveheart Tea Towel 'And They Lived Happily Ever After' for Kitchen Goddess Textile Category Top Ten Wedding Gifts 2014.
Jacqui Joseph Designs is excited to announce the signing of two further Artist; Brighton based Kim Anderson and Peterborough based Andy Nottle. Their timeless and stunning works will be featured in our Artist Collection in the coming weeks.
All of our products are proudly made in Great Britain.
If you are looking to punctuate your space with bright hues this season or looking for the perfect gift whether it's from our handmade Limited Edition pieces, our Digital Collection or our Artist Collection