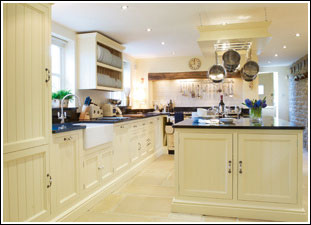 Parlour Farm is Expanding with a New Showroom in Blackminster and the release of their New Brochure
We are extrememly excited to announce the opening of a Parlour Farm show room in Blackminster, a restored historical setting in the Vale of Evesham, Worcestershire. Originally intento its gastronomic origins.ded to be the site for a fruit factory, our new show room will take the building back to its gastronomic origins.
Founded as a family business in 1994, Nick and Naomi Grunfield have been designing kitchens and dressing rooms for over a decade and pride themselves on providing the consumer with a bespoke, affordable alternative to the mass produced. Their style is timeless and one of classic simplicity designed to accommodate both traditional and contemporary aspects of your home.
Parlour Farms kitchen's are about function, individuality and a stunning aesthetic appeal. Huge emphasis is placed on interpreting the customers requirements and way of life so as one can ensure that each kitchen is entirely unique.
With such a successful and prestigious customer base in Cirencester and Burford, it comes as no surprise that Parlour Farm has huge expansion plans beginning with the opening of a new Blackminster show room in March 2011.