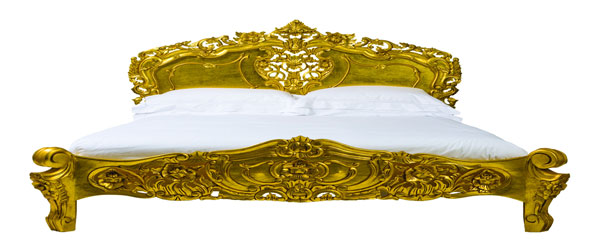 Newtons' showcases regal bed in honour of Britain's new Princess.
With celebrations already underway for the royal wedding on 29th April, we'll definitely be ready for our beds when the parties finally subside. So it seems only fitting to end such a majestic day of celebration by slipping into a bed made of gold – the imperial Chateau D'Or from Newtons.
Family run UK manufacturer, Newtons, has designed an exquisite range of bedroom furniture fit for royalty during this extra special year of commemoration. The Chateau D'Or collection is intricately detailed, featuring graceful, curvaceous lines, presenting a style that is truly regal to grace a royal palace!
Delicately hand-carved from mahogany and hand-finished in twenty four carat gold leaf, the exceptional Rococo D'Or bed from Newtons exudes grandeur and a sense of pure luxury. This meticulously detailed work with one of the earth's most precious metals denotes that each bed is unique and demands instant attention.
With bedside cabinet and carved mirror in this ornate collection, the gorgeous golden glamour of Chateau D'Or is undeniably lavish and makes a statement of noble proportions!
Purchase with confidence from Newtons online, by phone or mail order for delivery across the UK and Ireland.