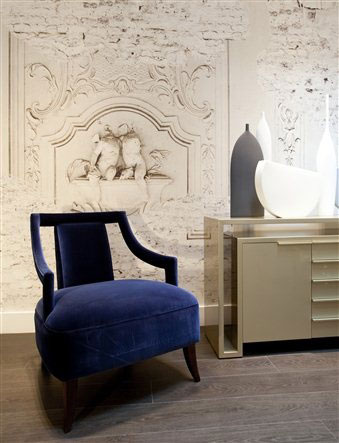 Mark Riese, Managing Director and Lead Designer at urban living interiors has covered an entire floor to ceiling section of wall of the recently opened interior design studio/showroom in Great Portland Street in stunning trompe l'oeill Wall & Deco bespoke wallpaper, designed and made to scale in Milan and seen here with stunning new contemporary Kose Milano handcrafted ceramics displayed against the backdrop of this unique paper.
"We saw this new "Stucco" wallpaper at the Milan Furniture Fair this year and were inspired by the play on old and new. As soon as I saw this design I realised it would be perfect for showcasing in our new design studio space. I love this Italian palazzo look, asymmetrically styled and textured to look like a real wall, it adds fantastic contrast and texture to the space, and what really gives it the wow factor is that the pattern is not obviously repeated even on this 8m long by 3.2m wall".
The wallpaper, one of 100s of exceptional and unique designs which can be taken to any length and any height is the perfect backdrop to the carefully chosen furnishings and accessories for the new studio/showroom (shown here with our Monroe chair in luscious Dedar velvet). Included in the wall paper range are different textures which can also be used in wet areas such as bathrooms and swimming pools.
The entire catalogue of wall covering designs and options can be seen at the urban living interiors showroom.
The KOSE range of ceramics are made from clay, wood and gauze and moulded into clean, tactile lines. Each piece is unique as they are all handcrafted using artisan techniques. They are quirky, stylish and make a bold statement. Mark brought this exclusive collection directly back from Milan and a gorgeous, eclectic mix are now displayed in the urban living interiors showroom. They work as individual pieces but really make an impact when grouped together, adding texture, colour and interest to a contemporary room.
"I had seen the collection of the Kose Milano ceramics at Milan last year and bought them on the spot for a private client interior design project we were doing at the time in Belgravia; the client loved them and they looked so fabulous that I had to buy more this year to have on display for the opening of our new studio and showroom; they look wonderful, are beautifully made and our clients have fallen in love with them".
At urban living interiors design, craftsmanship, materials and quality of the products are our top priority. Clients come to us because they know we have the highest standards and only work with top European brands, designers and manufacturers.
Mark Riese and his team source new designers and products and will not compromise on the quality of design and craftsmanship.
"It's exciting to be able to present new and unique furnishings, wallpapers and accessories, like the ceramics and wallpaper shown above. Our aim at urban living interiors is to bring fresh, exciting new designs from Italy and the rest of Europe to our new showroom and our interior design projects and show houses. The reaction from press and clients to our new showroom has been fantastic and we are working on some very exciting new projects using some of the products featured in the showroom", comments Mark Riese, Managing Director of urban living interiors.