An Edinburgh based directional lighting design studio helps you set the right mood in any home interior with visually compelling and full of symbolism statement wall luminaires.
Developing a successful interior lighting scheme is an art as well as a science with top lighting professionals usually thinking in three key layers. First, task lighting provides adequate lighting for functional activities such as reading, so careful electric socket planning is paramount. Second, general lighting aims to set an impression and provides for safe circulation within the space so overhead, ideally recessed, and non-glaring ceiling spot lighting is important.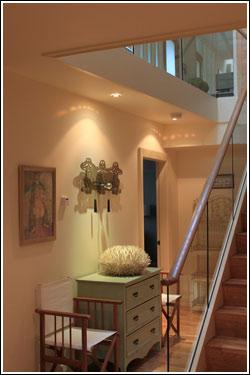 And last, but definitely not least, mood enhancing lighting comprises something to create visual interest; to add a touch of magic; to tickle the viewer's 'joy button'. This third layer gives walls centre stage in the form of careful placement of show-stopping wall luminaires, and LED wall washers, designed to add drama and create a focal point.
"Increasingly a top priority in home interior lighting schemes and offering a true home interior character differentiation point, mood lighting is set to revolutionise professional lighting schemes in 2011". Eva Hammerson, Head of Design, at Kandabi, www.kandabi.com.
With strong symbolism at their epicentre, Kandabi luminaires create a soft and mood enhancing lighting effect by lending an atmosphere of relaxation, intimacy and restfulness to any home interior, whilst simultaneously injecting an element of mystery and drama into the space.
The light is directed backwards, travelling through the luminaire's laser-cut Perspex central design element, and casting an enlarged, surprising, and almost 'magical' shadow onto the wall. The innovative use of mixed-media elements, such as hand-made tassels, provides a juxtaposition of the old and the new world, and lends a truly eclectic feel.
As a creative lighting studio fully aware of the philosophical, scientific, psychological and spiritual connotations of light, Kandabi utilises the art of wall illumination to enhance structural beauty and develop aesthetic sub themes, whilst respecting the integrity of the space.