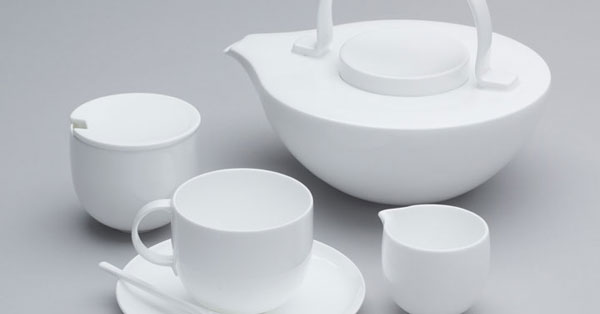 Bodo Sperlein For Nikko Japan
The East and the West have been fascinated with each other's culture since the opening of the first trade routes. From the start, European modernist design, particularly in the field of ceramics, was influenced by Japanese traditions, and this influence continues today.
Nikko is proud to present its recent collaboration with London based designer, Bodo Sperlein. The result is a unique collection that unites Japanese restraint and respect for nature with a formal modern European aesthetic.
Bone china was itself developed in 18th century Britain in an attempt to replicate the secrets of Oriental porcelain. Opening a further chapter in its history, Nikko has refined and developed the material using the skills of the local crafts tradition. This infuses the china with a particularly Japanese sensibility, whilst enabling forms previously hard to achieve.
Bodo Sperlein's new collection is a Western re-imagining of Eastern values. The outline of a blossom is articulated as a nested series of plateware, creating an organic selection of china that can be artfully composed on the table for dining. Sizes and shapes are scaled for use within both dining traditions. Colours and decorations are natural and gentle – sympathetic to the display of food, reflecting blue and green hues inspired by the sea and the blush of a flower.
The collection can be used in a variety of ways, the differing decorations sit harmoniously amongst each other. A range that can grow and be added to over time, it adapts to the occasion – from tea and cakes to a formal dinner party, the pieces can be tailored to suit the mood. When not in service individual components can be arranged to create inspiring decorative centrepieces. Selected individual items also make charming personal gifts and are an elegant statement in their own right.
Sperlein has cleverly fused two cultures to create a range that responds and adds to the needs of both.
Blossom Range
Blossom is synonymous with Japan, its fleeting beauty a metaphor for the transience of life. Sperlein creates a permanent record of it in Bone China, abstracting fluid biomorphic forms from its outline. Available in plates and bowls in a variety of delicate colours, the poetic forms elevate the experience of dining and encourage an individual expression of display.
Blossom Lighting
The translucency of Bone China lends itself perfectly to the fluid forms of the Blossom lights. A stunning addition to a wide variety of settings, it is available in two complimentary pendant shapes. The sleek elongated lamp is ideal for lighting a wide variety of interiors and spaces, whilst the billowing form of the wider pendant creates a dramatic focal point to any room. Stunning individually, when grouped together they resemble a sky of illuminated clouds, adding ideal lighting levels for the stylish interior.
Voyage Range
An exchange between two tea loving cultures, Voyage combines Eastern and Western silhouettes and rituals. A reduced Japanese teapot form is translated into British bone china; cups are sized for both traditions. Clean, graphic outlines crisply rendered lend a focused and sensual flavour to the teatime experience.
Cloud Décor
The softened coloured dot motif is a theme that Sperlein re-visits for Nikko, perfecting his trademark decoration of a dash of colour. Cloud surprises with a hint of colour revealed as the piece is used. The softness of dusky pink, contemplative aqua and indigo blues, light jade and ash greys disperse from a solid pool fading like a wash of paint in water.
Macaroon Plate
A circle of apparently solid colour reveals itself to be a gradation of pigment intensifying towards its centre, bound within the strict circle of a white china rim. All the tones are contemplative and soft, complementing any food display.