Bosch has launched a limited edition of its popular Private Collection breakfast set – in flame red with cool grey trim.
The attractive, cool-wall cordless kettle has a durable stainless steel interior that's easy to keep clean, and a powerful 3100W concealed element for fast boiling.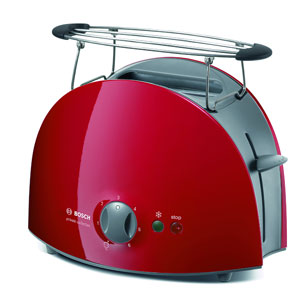 The Private Collection kettle (£34.99) is very practical too, with a substantial 1.7 litre capacity, removable stainless steel filter to reduce limescale and handy cable winder in the base. Whether you're right or left-handed, the kettle is really easy to fill (even through the spout) thanks to its multi-directional base and clearly visible dual water levels indicators.
Its companion two-slice toaster (£24.99) is full of handy features. As well as electronic browning control (including re-heat function), it has variable width slots, defrost mechanism and high-rise facility so toast is easy to remove. You can even keep your croissants or rolls warm on the warming rack. Cable is stored neatly in the base and the cancel button is a useful safety device.
The attractive and very practical Private Collection kettle and toaster – available exclusively from Comet – offer a perfect combination of style and function that will grace any kitchen, whatever the style.