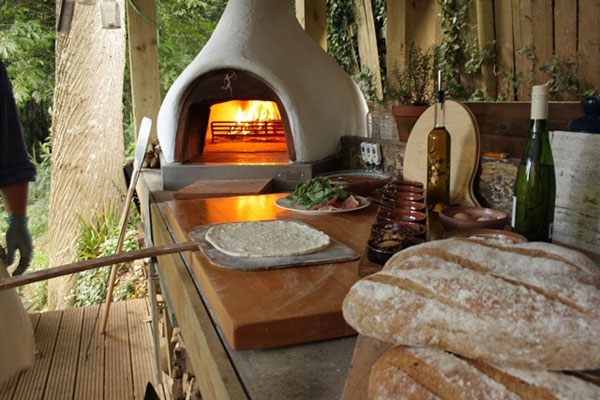 Everyone loves cooking and eating outside. This year, however, it's time to make space in your garden, or on your patio, for the best investment you'll ever make. Catch on to one of the UK's fastest growing trends and install a Bushman wood fired oven.
Not only does a wood fired oven look attractive in your outdoors' space it is also an extremely versatile way to cook.  Dishes can either be cooked in a flash or slow-cooked for hours.  For example thin-based pizzas can be cooked in a few seconds, whilst to truly tenderise meat you can leave it in the oven all day or even overnight so that it really does melt in your mouth. It's also a fantastic way to cook fish and shellfish which makes a delicious offering for a summer gathering.
Although the shape and building materials may vary, the thing wood fired ovens all have in common is how efficiently they produce and retain heat.  In Europe, the communal bread oven was pivotal to village life for many centuries. The baker would use the oven early in the morning to bake his bread and then other villagers would use the residual heat in the oven to cook their evening meals.
The other huge benefit of owning a Bushman wood fired oven is its durability. These have been specifically designed and made in the UK with our local climate in mind. Unlike other similar style ovens these have been made to last. They are also the only UK made wood fired ovens which are exempt under the smoke control act 2012, so it doesn't matter if you live in an urban area, you can still enjoy cooking in this way.
The smallest Bushman wood fired oven is the perfect size to adorn any garden. Whilst the smaller size will allow it to easily take the place of where the BBQ used to sit, it's big enough to cook plenty of food for a good sized party of friends and family. It will become the focus point of your outdoors' space and the hottest topic of conversation amongst all. It's not just for the summer either, these incredible ovens are great to use through the Winter months too.
If you really want to make a statement in your garden or are anticipating having lots of big groups of friends and family around on a regular basis then the 'medium' Bushman wood fired oven is a must.
The 'large' Bushman oven is for the serious wood fired oven enthusiast.  It's perfect for catering for large numbers.