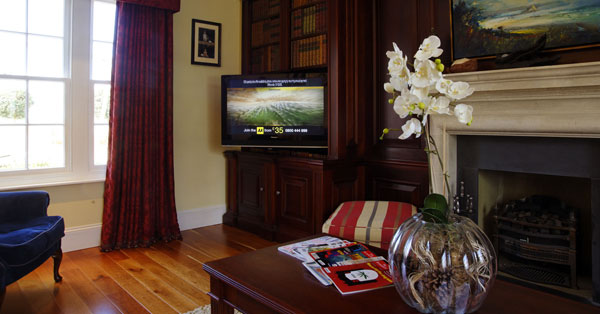 At the heart of a home automation system is the essential wiring that links up all the features that the householder requires. These features range from an intruder alarm system integrated with lighting control plus control of heating, air conditioning and appliances, curtains, blinds, audio and video – all working together in an intelligent way. Once the appropriate wiring is installed, however, householders can choose to start modestly with, say, a basic home security system and add to it in stages to suit their needs and budgets.
As home-owners' comfort standards rise they ask why they shouldn't have the convenient and easily-managed technology in their own homes that they have in their cars. And the answer is – no reason at all.
Here are some of the functions that systems can provide:
Monitor and control security, lighting and heating status from anywhere in the world using a telephone or smart phone app.
Switch on the garden lights automatically based on Time schedules
Create atmosphere with varied lighting scenes
"Magic" a hidden TV from a faux bookcase
Heat up the bath water Hear a reminder on a talking keypad
Open or close the curtains or blinds Have lighting and appliances respond automatically to alarms or security events.
On a computer screen look all around the house
Talk to a visitor at the door before letting them in from a keypad, home phone, or from your mobile when you are out.
An effective security system can be a springboard to providing a wider range of home technology when a multi-function system is installed, transforming the house into an intelligent one.
For example, movements in any of the zones in the house, opening, closing of doors and windows or specific alarms such as Intruder, Fire and Power Failure can be linked to lighting and other sub-systems in the home. The security sensors can do much more within a home automation system. For example, sensors in the home can include Motion, Doors, Windows, Temperature and Light and they act as eyes and ears for the system.
An automated home with integrated security can, for example:
In Holiday Mode, the lights and music switch on at chosen times in the day or night to give the impression that the owners are in when they are out.
When the single control opens or closes the automatic garage doors and gates, the security system is armed or disarmed simultaneously.
Home heating or air conditioning can be switched on or off automatically or adjusted when the security system is armed to Away or Night Mode or by Time Programmes.
Schedules or Time Programmes allow automatic control of security, lighting and other appliances. These can be used to automatically arm the security system and switch off selected lights at night, and, for example, to water the garden.
Automatic adjustment of daylight savings time changes is also a very useful feature for Time programmes as it removes the need to remember to change the time manually.
Motion sensors in certain areas in the home can trigger the alarm in Away mode, but can turn on certain lights in Night mode, and switch them off automatically when motion is not detected for a period of time.
External motion sensors can switch on lights and trigger a recorded warning message.
Lights and Music
The most common component of a home automation system is often lighting, where one of more lights can be controlled by electronic switches, keypads or remote controls. Such lighting systems may be bus-based like KNX or C-Bus (by Schneider) where electronic low voltage switches are connected in a bus throughout the house, and the lighting loads are connected directly to relays or actuators rather than through electrical light switches. Bus lighting systems are very reliable and have very extensive functionality.
Lights and appliances can also be connected using the AC outlets and Power Line Technology like X10 and its variants, although this is more suitable for non-essential items like plug-in devices due to problems caused by noise on the power line. Other lighting products communicate by wireless means like Infrared and RF signals. Wireless technologies used in home automation including products complying to the Zigbee and Zwave standards are becoming  more widely available.
Sound and entertainment multi-room systems controlled by touchscreens and keypads that also control lighting with mood scenes and underfloor heating are typically installed in higher end homes, though any more modestly sized house can be a candidate for basic automation.
Energy Saving – Cost Saving
A key issue in the sustainability and energy conservation debate is how home energy consumption can be controlled, monitored and importantly, reduced. Home energy use can be simply controlled by a home automation system that monitors heating, lighting, appliances, curtains and blinds and adjusts to individual conditions in the house. Greater home energy efficiency can be achieved with daylight controls, occupancy sensors and more accurate control of the heating system. Home heating or cooling settings can be changed remotely by phone or computer if weather conditions change suddenly.
Assistive Living
Forecasts of the increasingly ageing population flag up another key sector where home automation can play a vital part. There are now more over 60's than under 18's in the UK – a common global trend. Assisted living for the older generation, and for those with disabilities, can be provided via buildings with fully functioning interactive smart facilities. The pressure that this growing older population will put on healthcare is predicted by some experts to indicate that breaking point could be close without drastic action.
However smart home automation can alleviate many of these fears by providing a host of benefits. These include an interactive voice menu that can be controlled from any remote or home telephone. The real time status of lights and appliances can be announced before switching anything on or off. Reminder messages and voice announcements can be played back by talking keypads or phone, for example, to remind the user to take medicine, as a wake-up call, or warn if any motion is detected in the home.
Importantly the system can dial out to carers or family members if there is no activity in the home for a longer than usual period of time. The carer can talk to the person in the house via any of the keypads and an emergency button on the keypad can force a dial-out to a helper. And as smart networks develop online contact between the user and their GP becomes interactive as does diagnosis and treatment.
A key concern for older people is that of security in the home. A door station with a camera allows the person at home to speak with the visitor and see them before opening the door. The door is opened via any phone or keypad in the house and if no-one is home the caller is diverted to the home-owner's mobile.